If you are a Canon printer user and experience Error 5b02, don't panic, because we will review how the printer experienced the error in easy steps. Before we start discussing how to fix this error, you should first know what error 5b02 is. Here's an explanation:
What is Error Support Code: 5b02?
Error 5b02 is an alarm warning for errors that occur on the printer, error 5b02 is an error that indicates that your printer has crossed the printing limit, so every printer has a print limit which if it has passed there will be a notification with an alarm. Usually marked with an error code 5b02 for a printer alarm that has passed the maximum print limit, when you use the printer and it suddenly gets stuck then the monitor or LCD screen displays an Error 5B02 message, then you can be sure your printer has reached the maximum print limit, then how do you do it? overcome the printer that has reached the maximum print limit?
To solve this error, then we have to do a reset so that the printer returns to its initial settings and Error 5b02 can be resolved, for how to reset this printer, we will try to use the help of the tool that you can download below. with this tool we will try to reset the printer, the steps are quite easy and understandable.
Steps to reset a Canon Printer to solve Error 5b02
1. Put Printer Settings in 'Service Mode'
Turn off the printer and the power cable is still plugged in.
Press and hold the 'Reset' button don't release it.
While pressing the Reset button, then press the button and hold 'Power'.
In the second position, the buttons are still pressed, Release the 'Reset' button but the power button is still pressed, Next you press the 'Reset' button 5 times, then release both buttons simultaneously.
After this, do a reset using the Canon Service tool resetter software to fix the Error 5b02.
2. Reset printer using canon service tools
First, download the Service tool from the link provided above.
Extract and run the application, After the application is open, follow the steps below, see the following image.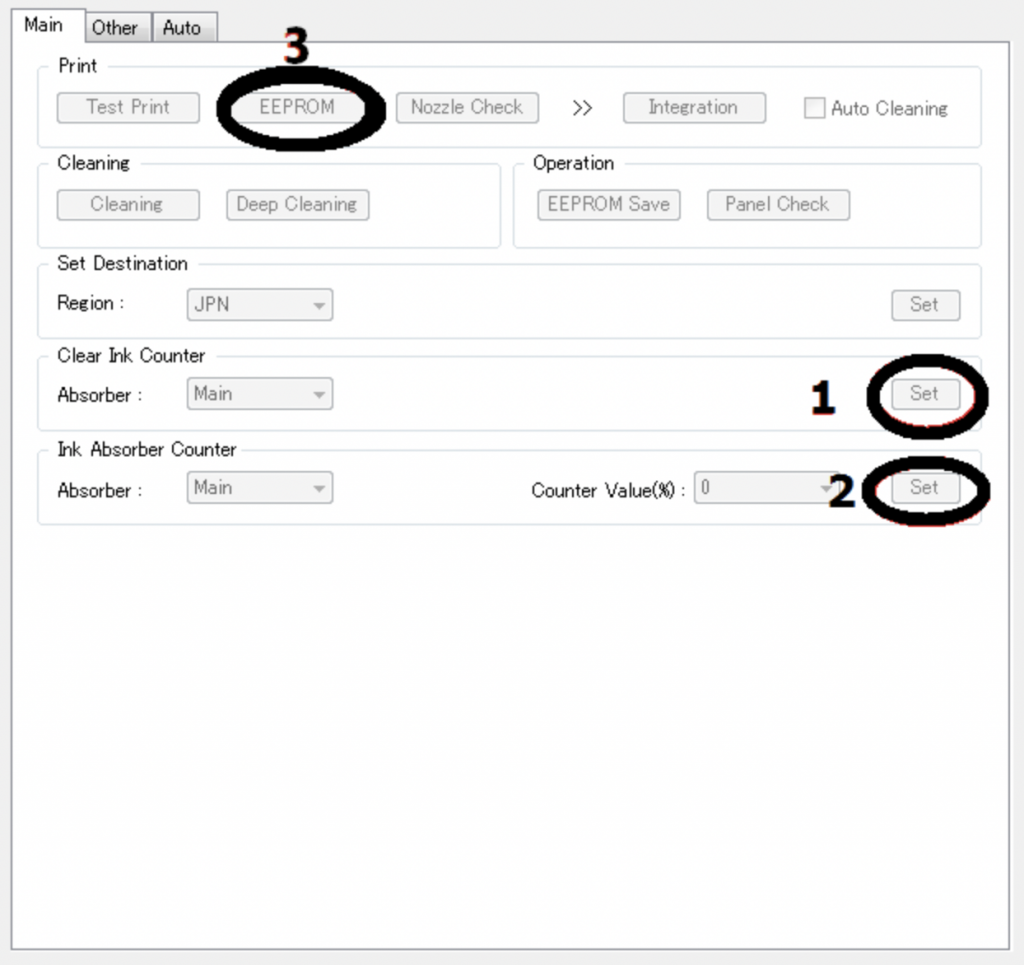 First Step Click Set in picture no. 1, and then the printer will print one sheet.
Click set in picture no.2 followed by pressing Eeprom on no.3 then the printer will print one more sheet.
In this position, your printer has been successfully reset. The last step is to turn off your printer by pressing the power button and then turn your printer on again. The printer is ready to work again. so that I can explain How to Reset Canon Error 5b02 Easily, hopefully, it can be helpful and useful, if you have any questions please comment below, good luck.